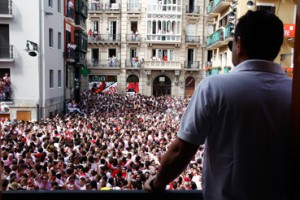 Today we are going to discover the capital of Navarre, the famous city of the Running of the bulls, Pamplona.
Pamplona is well known around the world because of the festivity of the Running of the bulls.
Pamplona was discovered to the world by Ernest Hemingway in his first novel "The sun also rises"  The characters stayed in Pamplona during the festivity of San Fermín. They partied in Café Iruña and Plaza del Castillo and they were overwhelmed by the strength of the bulls' run. We will visit all the famous places that Hemingway talks about in his book and we will learn about running with the bulls.
But there is more to the city than the running or San Fermin. Walking in its narrow streets we will discover the ancient history of a proud Kingdom that was independent until 16th century.
Also its gothic cathedral is worth a visit on its own and a  walk on top of the ancient walls will make us understand medieval living as not many other places would.
Something the Navarros are proud of is their food and wine and the best way to try it is going for tapas and pintxos in the old quarter. There are plenty of options.